Picture this. You have reached the paradise island of Mauritius, you are breathing fresh air, hearing the sound of the waves and the sun is lightly tapping on your skin. Yes! smells like the beginning of your holidays! Here are some basic additional cool phrases in kreol which may help you if ever you want to go out of the common grounds and engage with locals!

In case you missed our first Article on Learning Mauritian Language, you can read it here.
At the Guesthouse!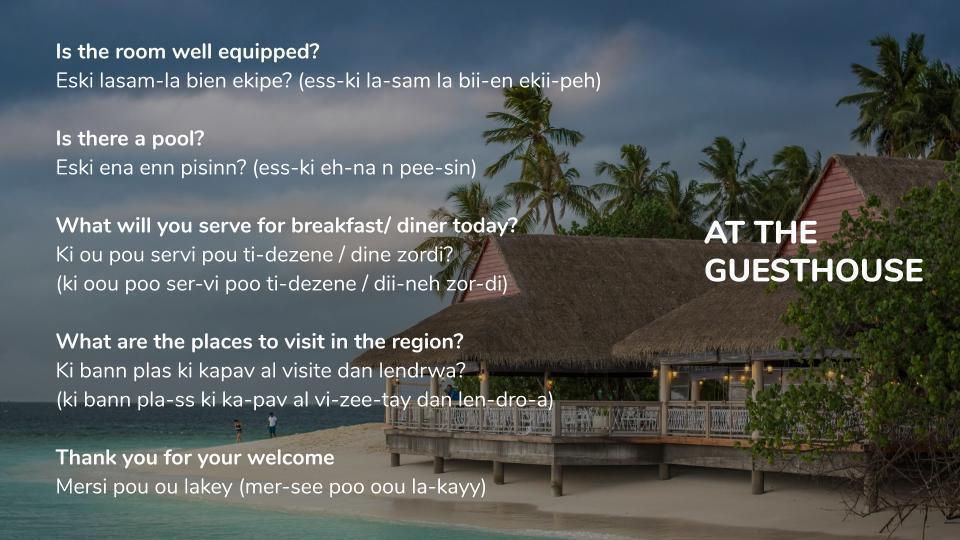 Guesthouse owners are the some of the first people to welcome you on the island. And they'll probably become family! Here's how to initiate a conversation in their mothertongue!
At the Market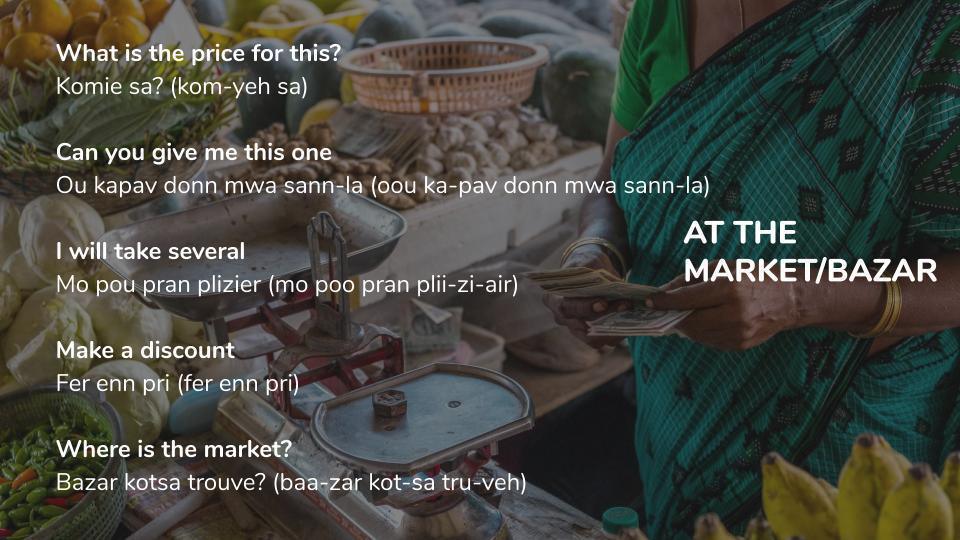 The market is one of those wonderful places, if not the best where you can discover more about this melting pot of cultures called Mauritius. The phrases below will help you to ask for what you want and at the same time learn to bargain. Witness Culture at work while becoming a local version of a Jack of All Trades and a Master of None!
At the Restaurant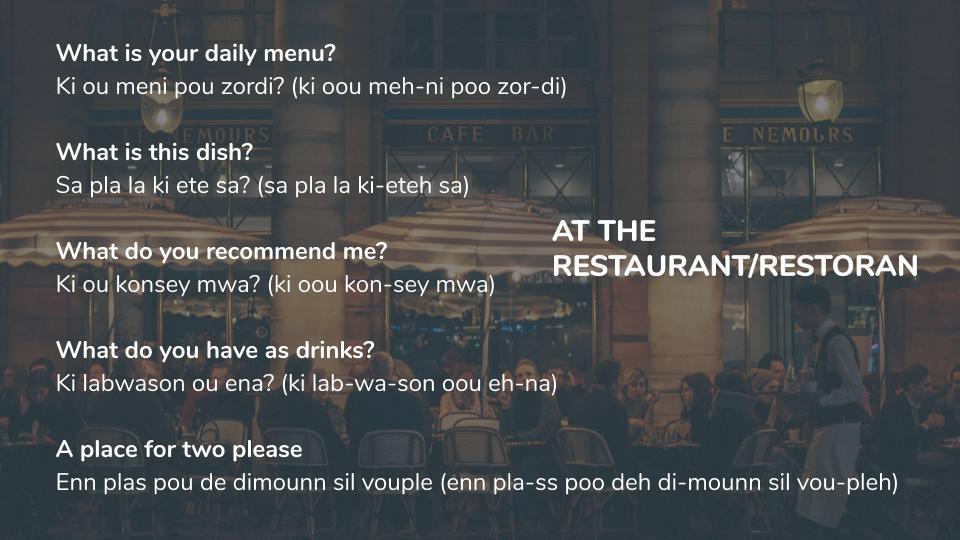 Isn't it annoying when you want to taste a local dish but the fear of not knowing exactly what it is, makes you hesitate? Well, don't let that stop you, no more! This is the way forward to satisfy your taste buds while engaging a conversation with your Mauritian waiter!
Learn History the fun-way!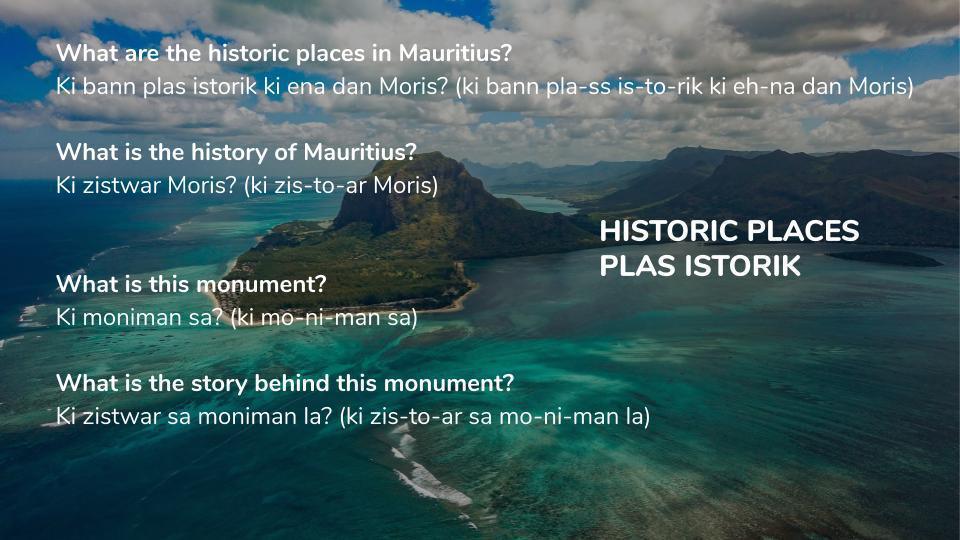 Mauritius is an island full of hidden treasures thanks to its rich History. During your stay, you certainly like to enrich your knowledge by visiting historic places and what better ways are there to learn more than initiating a conversation in the mothertongue.
How to Order a Cab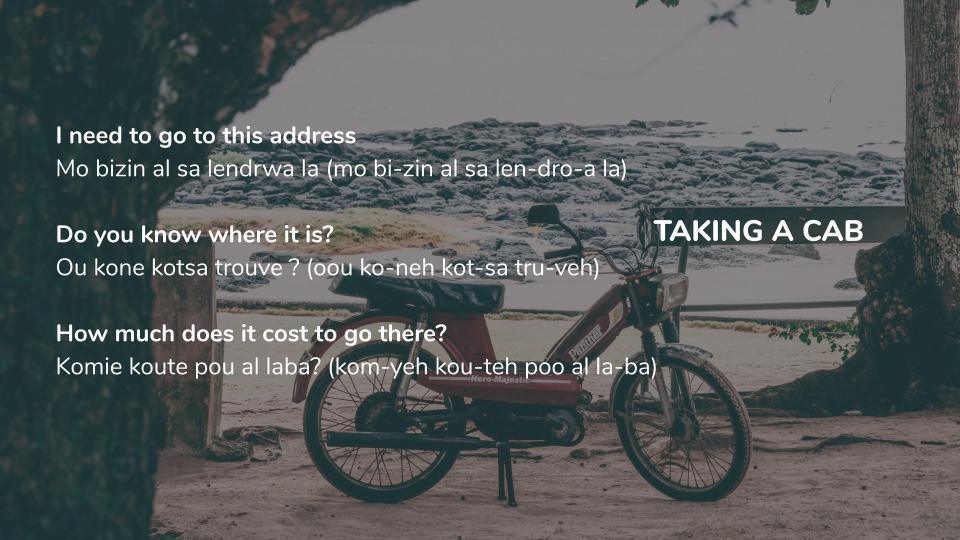 We know that you would rather like to have your own car but as an alternative, taking a cab is not bad. Instead of focusing on the road, you will have the chance to admire the mind-blowing landscapes of the island and the above phrases can be of great help!
Now's the time to make your holidays the most memorable ever!