Côte Jasmin et Jardin Bar
Port Louis Port Louis Port Louis District
Halfway between a bar and a local version of the Eden Garden, Côté Jasmin Jardin et Bar is one of those places one would not expect to find in the Capital's maze of busy streets. As you walk through its sky blue gate of this charming after-work retreat location, you'll find human warmth, perfectly chilled beers and that unique New Age feel. Adorning a simple decor, rocked by a little Italian music, old white walls, touches of azure on the iron chairs, the checkered tablecloths and grid, pebbles on the ground and pretty plants decorate this little place.
What's on the menu you may ask? Everything from a choice of spices sprinkled over local finger foods to mouth-watering pasta recipes inspired by the Mediterranean land and sea. Heads up! Don't be too surprised if not everything on the menu is available as the Chef only serves dishes whose ingredients are fresh and in season to better satiate your fondest cravings. However, what's for sure is that the specialty at Côté Jasmin Jardin et Bar is The Pasta! Like the tagliatelle with arrabbiata sauce, garnished with black olives and Parmesan cheese, a must dish that you should taste. Côté Jasmin Jardin et Bar offers every day of the week another dish: Thai cuisine, tuna tartare, taboulé, pasta alla puttanesca ... and Saturday is according to the "the mood of the chef! ". This Resto & Bar
also proposes a wide choice of homemade ice-cream
The Côté Jasmin Jardin et Bar offers a wide array of on-trend and refreshing cocktails that foreign travelers and locals can sip on while merrily chatting to one another. Oh and if you're around on Fridays, don't miss their live music band nights! Plus their special Chickpea couscous which is served with fresh tuna grilled with spices, carrots, cabbages, scrunchies and potatoes.
Opening Hours: Monday to Saturday 10 am to 10 pm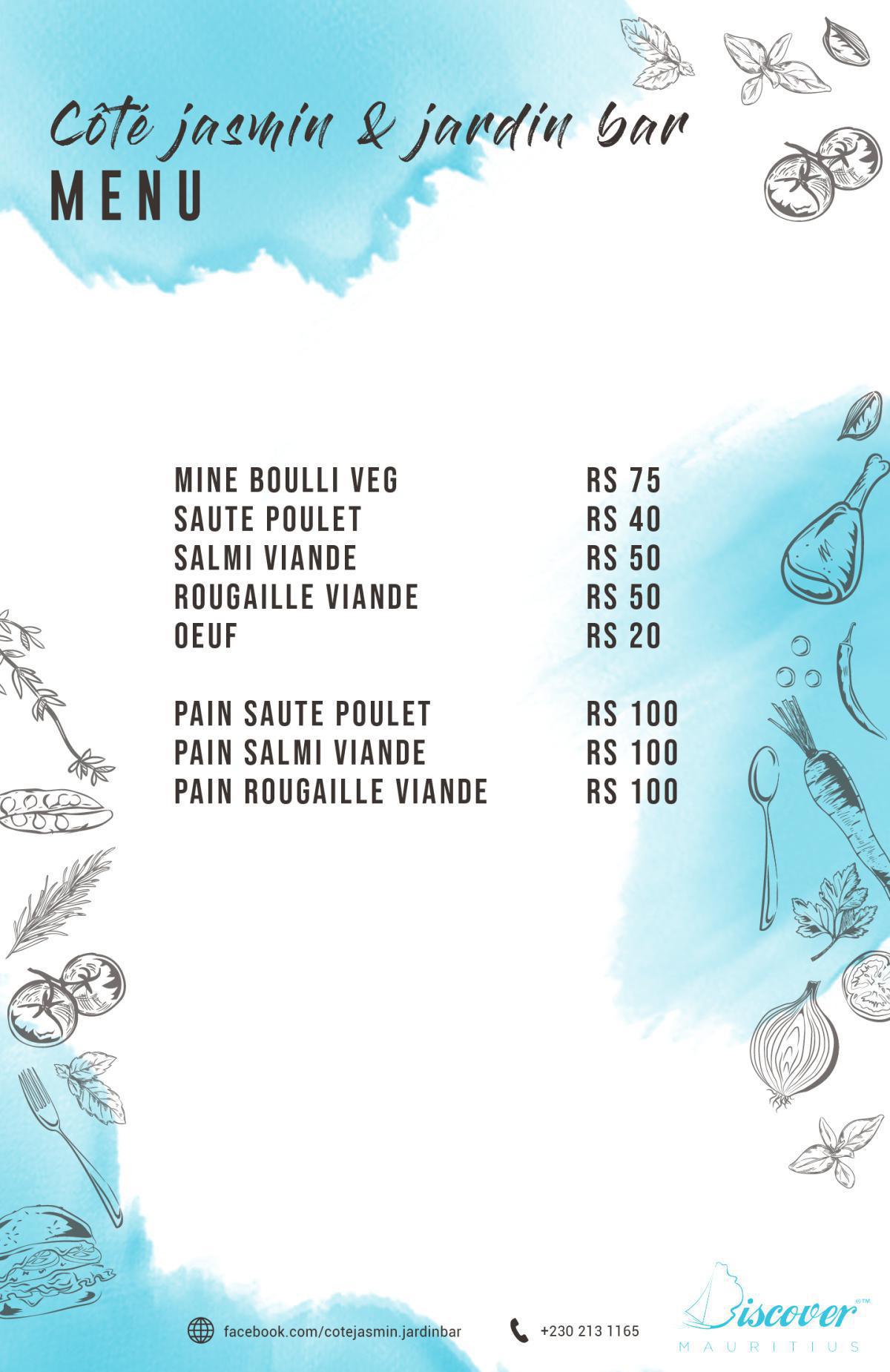 Most restaurants regularly update their menu, we would advise you to call before placing any order